YOU NEED
CLIENT MANAGEMENT
SOFTWARE!
The incredible power of a CRM and Market Automation coupled with a powerful Website means you sell more, stay organized and keep clients happy.

LEARN MORE - WATCH THE VIDEO

ATTRACT


CAPTURE


NURTURE


SELL


WOW

(theclientACE.com)
IS YOUR EASY AND AFFORDABLE SOLUTION
Attracting clients and keeping them engaged today is much more than simply building a nice website and manually engaging. The internet has changed everything and businesses need to keep up, automate and engage or miss out on revenue and opportunities.
As a business owner, new and existing clients are the foundation of your business. But right now, your foundation is leaking. You probably don't have a system in place for truly capturing and nurturing clients automatically, and will they choose YOU over another business.
If there's no effective system, that nurtures a client from discovery to a decision, then prospective clients will go somewhere else. And if you think they don't, just look at your web stats. The MAJORITY of prospects who visit your website leave without buying anything. But also, once you have the clients, how do you simply keep them engaged?!
This is why we created Client ACE. A client management marketing solution that integrates right into your website too. Designed for small and mid sized businesses. Easy and affordable power to Attract, Capture and Engage clients.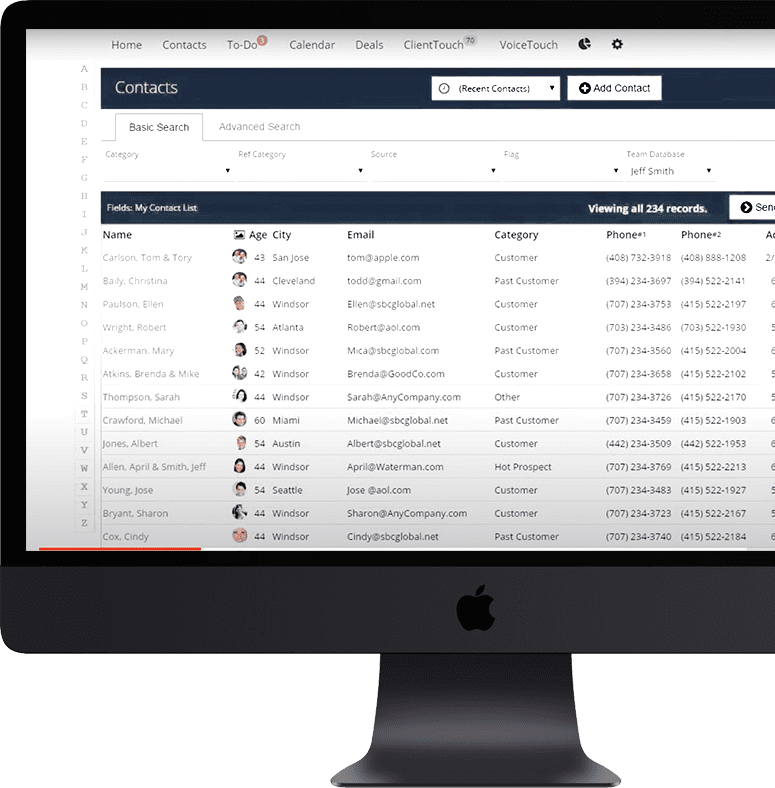 We're WST, and we've been in the business of helping businesses construct rock-solid marketing solutions for more than 25 years. We handled everything from Website solutions, to powerful inbound marketing (SEO, PPC, etc.). So, we understand businesses! Client ACE is a powerful CRM and marketing automation platform that stops "prospect leakage" and drives more sales and client engagement.
With Client ACE tied into your website, your lead capture process, your email campaigns, your sales pipeline and your downloadable lead magnets are working automatically. Now you have everything necessary to convert more prospects to paying customers, repeatable and EASY…without the steep learning curve that normally comes from learning new software.
Organize your time and clients.
Streamline your sales pipeline so
no lead ever falls through the cracks.
Automate communications and appointments so that every prospect and client gets the attention they need.
with packages as low as $239 per month, Client ACE will let you
spend less time qualifying leads and more time with qualified leads.

Marketing Automation Software
This amazing software not only ensures proactive interaction with your valuable sales leads, it also:
Leverages a powerful website.
Socially engages your audience where they are comfortable—online—generating curiosity and interest in your product.
Easily captures precious information that your leads willingly provide, evolving the relationship naturally.
Produce analytics detailing lead interaction and level of interest.
Creates customized campaigns tailored to each stage in the buyer's sales cycle.
Conveniently segments your leads based on demographics, interactive choices and behaviors.
Automatically sends communications to your leads, engaging them not only with your product but also with the relationship building process.
Discovers your "hottest" leads, prospects that are qualified and eager to purchase your product or service.
Establishes your brand as the authority in your particular industry.
Organize Your Day.
Keep your prospects, clients, tasks and appointments in one place and easily visible from your computer, smart phone or tablet. Get alerts when your prospects take an action or show activity online—never missing an opportunity to follow up at precisely the right time. Even automate recurring tasks – or delegate them to your team!
All Sales and Marketing Data – easily found in one place.
The entire client history, including emails, actions, notes, tasks and appointments are kept in one easy to access location.  Your team will always have the information they need to close the sale right at their fingertips and keep clients engaged, and sales managers will be able to see what sales are coming and how to facilitate the close.
Where's My Next Client Coming From?
With Client ACE's sales pipeline management tool, you'll always see your most promising leads displayed right on your dashboard,  all organized for you according to where they are in the process –  saving you time and keeping you focused on those prospects that most deserve your time and attention.
Reporting That Makes Sense.
The most useful reports are those that tell you where you are, where you're going, and what you need quickly and easily. Client ACE automatically generates your most relevant prospects.
The one CRM software your team will use
and the only one you will ever need!
Cloud based – access from any connected device
All-in-one CRM and Marketing Automation with easy Web integration
Integrated email for campaigns, broadcasts and automatic responders
Easily create web forms and landing pages instantly.
Capture and nurture more leads
Keep track of every client through the entire process
Automate key actions, tasks and communications with your team and clients
Instantly review reports
Easy to use – Yes, your sales team will use it and love it!
Full support when you need it.